STEP 1
Once you've received your rental voucher from us, please go to the Alamo Online Check-In website. You'll need to enter the first name and surname of the lead driver as they appear on the rental voucher. Please note, if your rental voucher shows the first initial only, please get in touch with us.
You then need to enter the 9/10 digit Alamo Reference number which can be found on your rental voucher. Once you've entered this information click on the 'Check In' button and move to STEP 2.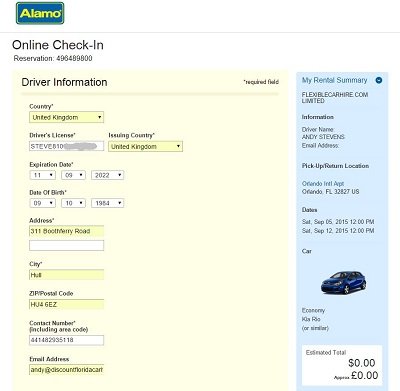 STEP 2
1. Enter your driving licence number. On UK driving licences the first 5 letters match the start of your surname.
2. Enter your driving licence expiration date. This is the expiry date on your driving licence photo card next to 4b.
3. Enter your date of birth.
4. Enter your address where your driving licence is registered to.
5. Enter your telephone number inc country code, i.e UK customers enter 44
6. Enter your email address.
7. If you have gone for the gold package, you can now add the additional drivers. The estimated charges on the right of the screen will remain at $0.00. The inclusive package includes 1 driver.
8. Please click on the blue text "Would you like to add your Airline information (optional)". Although this is optional. It can cause an error message and prevent you from checking in online. Please enter your arrival flight number or if you are a walk in customer, enter "Walk In".
9. Optional extras. If you wish to add them, please select the quantity and click "Add". The estimated Total on the right will adjust.
10. Click on "Check In"
STEP 3
You will now see confirmation that you have successfully Checked In online.
Click on the button in the top left to "Print Check-In Ticket".
STEP 4
A new window will open and allow you to print a printer friendly version of your Online Check-In confirmation.
You will need to use this confirmation sheet when you arrive at the self service kiosks.